Commercial Roof Repair
---
Need a roof repair done on your building, perhaps maintenance or even installation? Commercial business owners understand how important it is to have a roof in the best condition which helps to protect their building. A roof is the first barrier against adverse weather, water entering your building, and the harming effects of the sun.
Weather Damage?
Whether your commercial property has suffered from a harmful storm or need a repair because of aging, let our roofing technicians help. Perhaps your building is in need of the smallest repair or a complete overhaul. No matter the project we are here to provide expert roofers to analyze and make the best determination for your building.
---
Chesterfield Roofing offers the following for commercial buildings:
Roof repairs

Roof maintenance

Roof installation

Reroofing

Roof inspection
---
Here at Chesterfield Roofing we are here to handle all aspects of roofs, whether it is a small repair, a complete overhaul or a replacement roof to increase your building's value - Call us for a free estimate and let our services work for you.
Professional Expectations
We understand that your business is valuable and an investment. Next to the foundation, a roof is a major structural part of defense for your commercial building. Choosing the right roofing contractor is essential, and we believe business owners want to feel confident in choosing a company who understands such importance.
Sustainability of your roof is key. Contacting us for a roof specialist to address and fix your repair is all that may be needed to be sure your roof is in complete stability.
---
No Roofing Project Too Big or Small
If you feel as though your roof is in need of more than a repair - no roof project is too big or too small for our expert roof technicians. We offer free new roof estimates.
---
Choosing a Roof Type
Chesterfield Roofing's goal is to provide business owners a service that defends and protects against nature's elements. In addition to that, your choice in the type and color of a roof, can add character to your building.
---
Questions?
Contact Us for any questions or service you may require. Our staff is here to assist you in your commercial roofing concerns.
---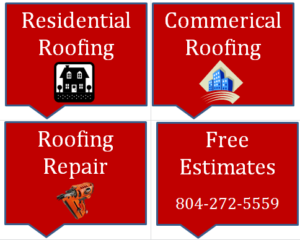 Call for a commercial roof repair: (804)272-5559